End of life care for your pet, and preparing for your pet's euthanasia
The team at the Veterinary Hospital understand how important your pets are to you and your family – we are all pet owners ourselves. The way you may be feeling towards the end of your pet's life reflects the deep bond that you have with your beloved animal.
We can help you come to the decision that it is time to have your pet 'put to sleep' or euthanised. It is a very difficult decision and there are many aspects of your pet's quality of life to consider which we can discuss in person at an appointment if you wish. Having a look through a 'Quality of Life questionnaire' can help you evaluate your pet's wellbeing and aid you in making those difficult choices around end of life care – just let us know if you would like us to send you one via email.
When you have made the decision to say goodbye to your pet there a few choices to consider and discuss with your family. Some options you may wish to consider include: 
Would you want to come to the veterinary practice for the euthanasia or have a vet come to your home?
Is there a particular vet or nurse that you would like to be with you?
Do you wish to bury your pet at home or have them cremated?
Do you wish to have your pet's ashes returned to you, or scattered at the crematorium's Garden of Remembrance?
Would you prefer to pay for the treatment before you come into the practice so that you can focus purely on your pet during the appointment and do not have to deal with finances afterwards when you may be upset?
We know how difficult it is during this time, and we want to make it as peaceful as possible for you and your pet. Please let us know if you have any specific requirements and we will do our very best to accommodate them.
This document explains the process of booking in for the euthanasia appointment, what will happen on the day, and the after-care options available.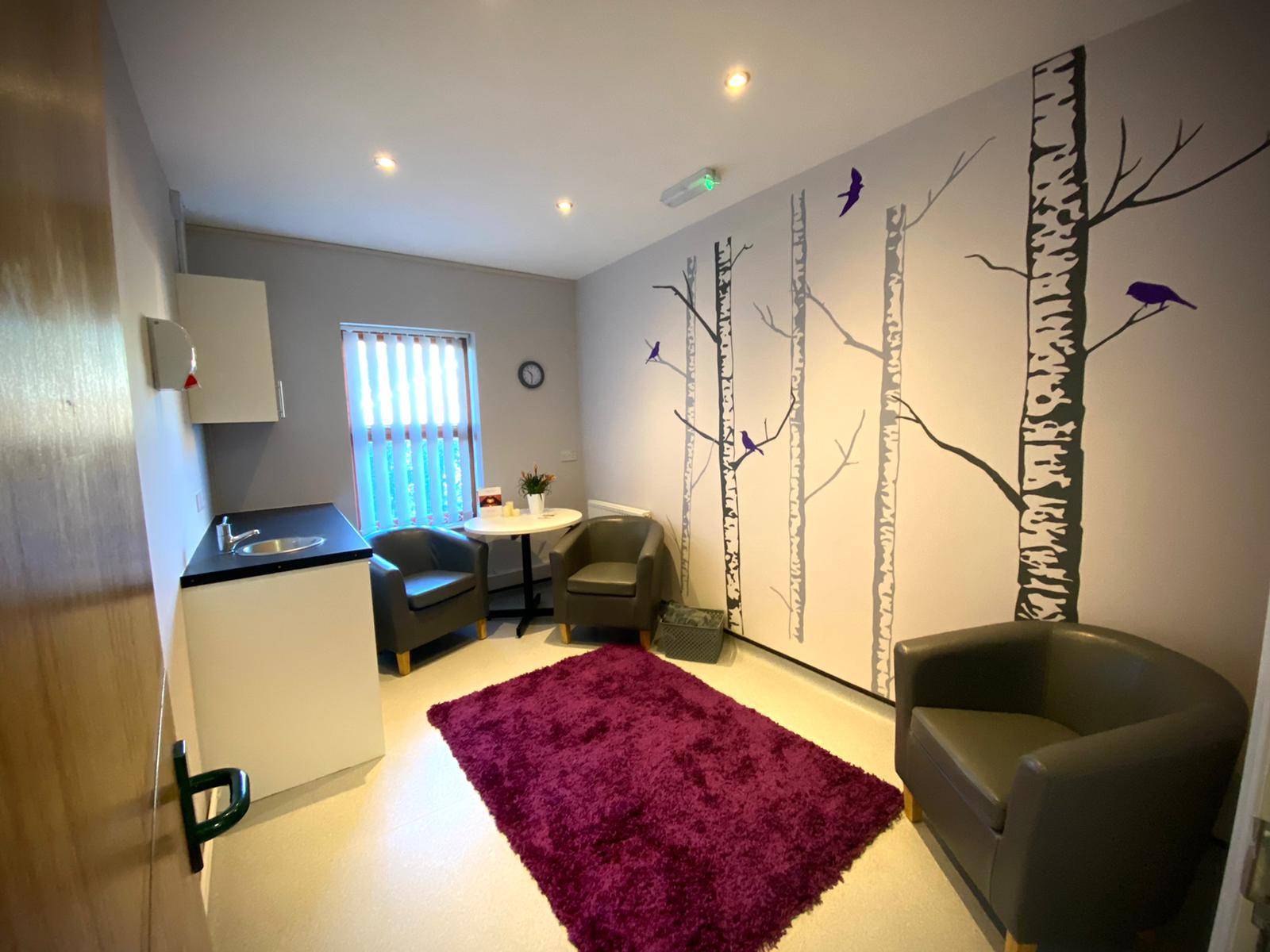 Booking the appointment
You can phone the practice, come in the reception to arrange the appointment or send us an email and we can phone you back to arrange the appointment.
You can choose to come to the main hospital, have a home visit, or attend our quieter branch practice. We have a lovely non-clinical room known as 'The Snug' at our Skellingthorpe surgery – it is cosier than a usual consulting room with comfortable chairs and soft blankets for you and your pet to feel more relaxed in – a little like a home-from-home. This space can be viewed before the appointment if you would like, accompanied by a nurse who can explain the process with you.
The receptionist may ask you if you have thought about your wishes for your pet's body after they have been put to sleep – usually burial or cremation.  We can arrange a private cremation if you wish, where they will be cremated as an individual and you will be able to receive their ashes back to keep. Alternatively we can arrange routine cremation where your pet will be cremated with other animals and their ashes scattered at the crematorium.  You can find more information about the company we work with (Greenacres) by visiting their website:  www.GreenacresPetCrematorium.co.uk
You are also welcome to take your pet home for burial after they have been euthanised, or to make your own arrangements with a crematorium or cemetery of your choice.  We can provide a blanket to wrap your pet in for their journey or you may wish to bring your own covering or bedding. 
Understanding the euthanasia procedure
When you have arrived for the euthanasia appointment, please let our reception team know either in person or by phone that you are here and if you wish to wait in the car or in the waiting room.
A vet will greet and bring you through to the consulting room and will discuss with you how your pet has been managing recently and confirm with you that euthanasia is the kindest option.
The vet will ask if you would like to take your pet home for burial, routine or private cremation and will ask you to sign a Consent Form. They will ask if you wish to be with your pet whilst they are euthanised, or if you would rather leave them with us – if you choose not to stay, please rest assured they will not be alone, but will be cuddled by our caring nurses as they pass away.
You are welcome to bring along your own treats for your pet and we do have plenty available – just let us know if you would like them to have some. Please do bring any familiar bedding or blankets that you wish for your pet to lay on during the procedure.
The vet may recommend sedation to relax your pet. In order for the euthanasia procedure to be as comfortable as possible, the vet will usually place an intravenous cannula in your pet's leg. We may take your pet to a different room for this, or have an assistant come in to help by holding your pet, shaving some fur, and then putting the cannula in. If you would rather not be present during this part, let the vet know.
The euthanasia injection is then given through the cannula. You can hold or stroke your pet during this part, if you wish. The medication used is a very strong anaesthetic, and once it is given it often only takes a few seconds for your pet to become unconscious – asleep and unaware of the surroundings. The medication then works by slowing the breathing and stopping the heart.
Once your pet has passed away the body can have various muscular contractions for a few minutes after. They may appear to gasp or suddenly take a deep breath. They may have muscle tremors or stretch their legs out. This is a very natural reaction where the body is using up the last of it's energy, and your pet will not be aware they are doing it as they will be unconscious. Some pets can empty their bladder or bowel as the body relaxes. The vet will confirm that your pet has died by listening for absence of a heartbeat with a stethoscope.
With smaller pets such as rabbits, guinea pigs, hamsters, birds, and reptiles we recommend them to be kept in familiar surroundings such as their own bed/bedding to keep them as relaxed as possible. Due to the nature of these animals being small, intravenous access is almost impossible, and so the kindest way to administer the injection is whilst the animal is under anaesthesia. This will be given via an inhalation gas and unfortunately you cannot be present with them during the process. Rest assured they won't be aware of anything about the process or feel any pain.
Please do not be afraid to ask the vet if you have any queries or requests – we will do our best to help you and your pet. If you wish to spend time alone with your pet afterwards, or if you would like a clipping of your pet's fur and/or some paw prints, please just ask.
If you have chosen to have your pet cremated, we will look after your pet until the crematorium comes to pick them up. With private cremation you have the choice of having your pet returned in either a scatter tube, casket, or urn. If you are undecided at the time of your appointment, you can contact us, or we will call you within 2 working days to confirm your requirements. Your pet's ashes will then be brought back to us a few days later and we will ring you when you can come and collect.
Payment 
Some clients prefer to pay for the euthanasia procedure and final arrangements before the appointment, this can make it easier as you do not have to worry about any financial logistics on the day – you can simply focus on your pet. After the procedure we can show you out of the building via a side door to avoid a potentially busy reception area.
If you prefer to pay at the time we can ask one of the reception team to come into the room, again to avoid a queue at reception.
Unfortunately, we cannot arrange your pet's cremation until we have received settlement of the account.
Understanding Grief
We understand that saying goodbye to your pet is an extremely difficult thing to go through. Sometimes it helps to share your feelings with someone who knows from personal experience how distressing the loss of a pet can be. Below are some numbers you can ring if you need to confide in someone.
Counselling:
Dawn Murray, Living with Pet Bereavement – 08454655999
The Pet Bereavement Support Service (run by The Blue Cross Charity) – 08000966606
Rabbit Welfare Association (Bereavement Support and Members) – 08443246090
Cats Protection – Paws To Listen- grief support service cats.org.uk